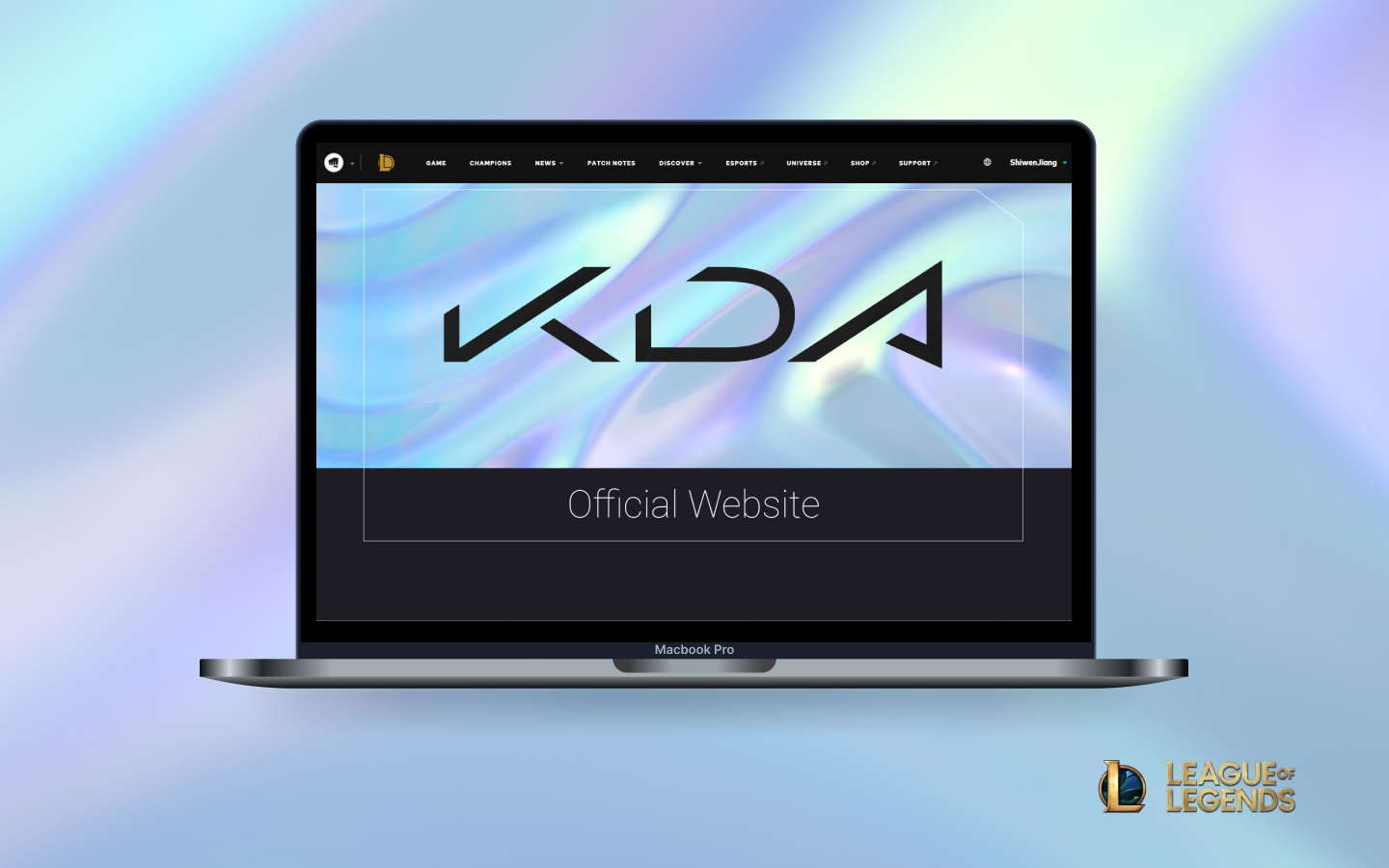 Objective
K/DA is a virtual girl group consisting of four League of Legend characters. As K/DA released the newest album, it receives a lot of attention from the League players. However, the K/DA official website fails to meet the expectation. As a fan of K/DA, I decided to take on the challenge to improve the web experience.

User Research
To better understand the user's opinions, I sent out a
survey
asking League player's knowledge on K/DA. To my surprise, most people do not understand the basic information of K/DA such as the album name, Seraphine and K/DA comics.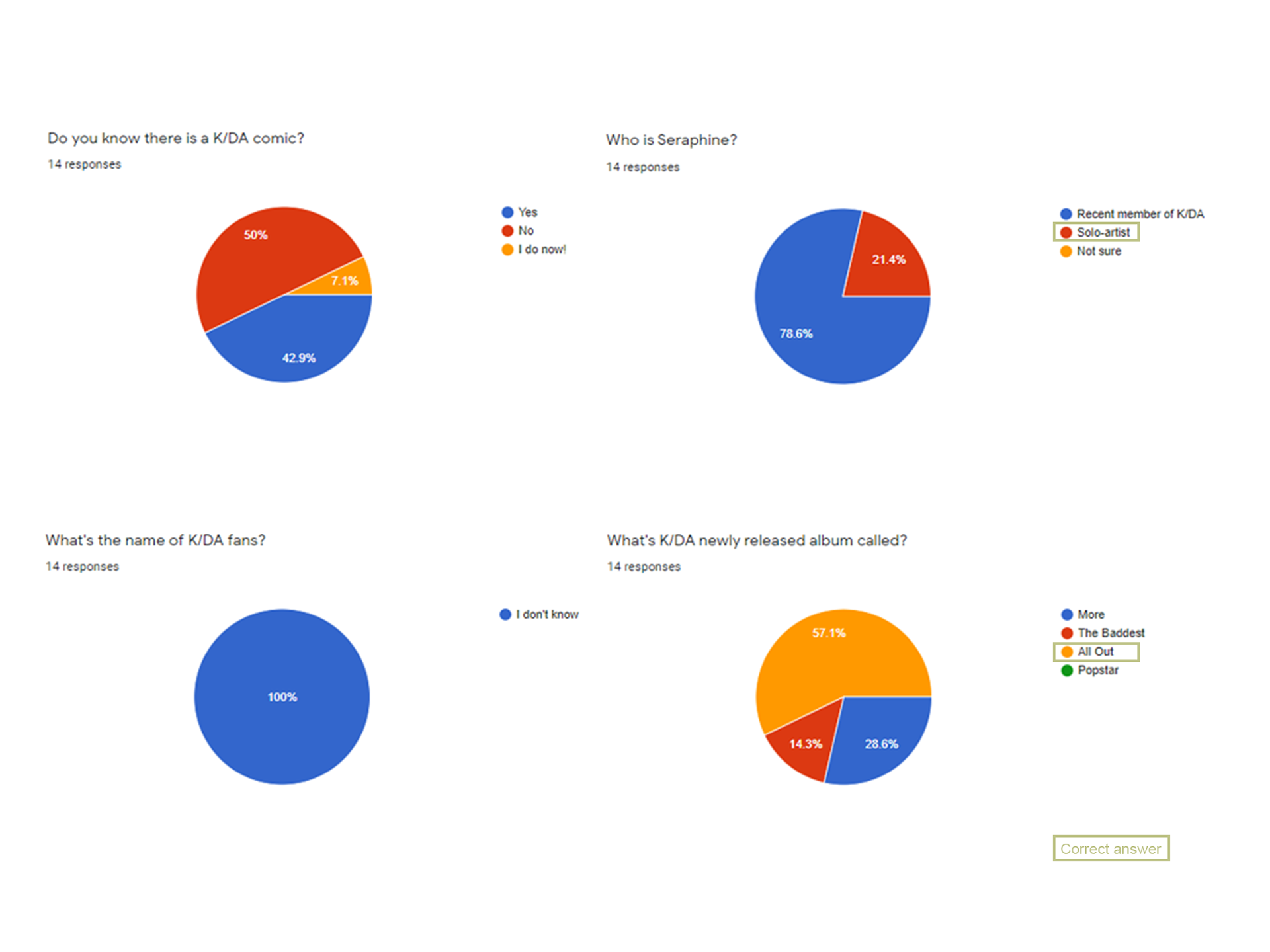 Then I interviewed 3 people about their thoughts on K/DA and the website and come up with the two personas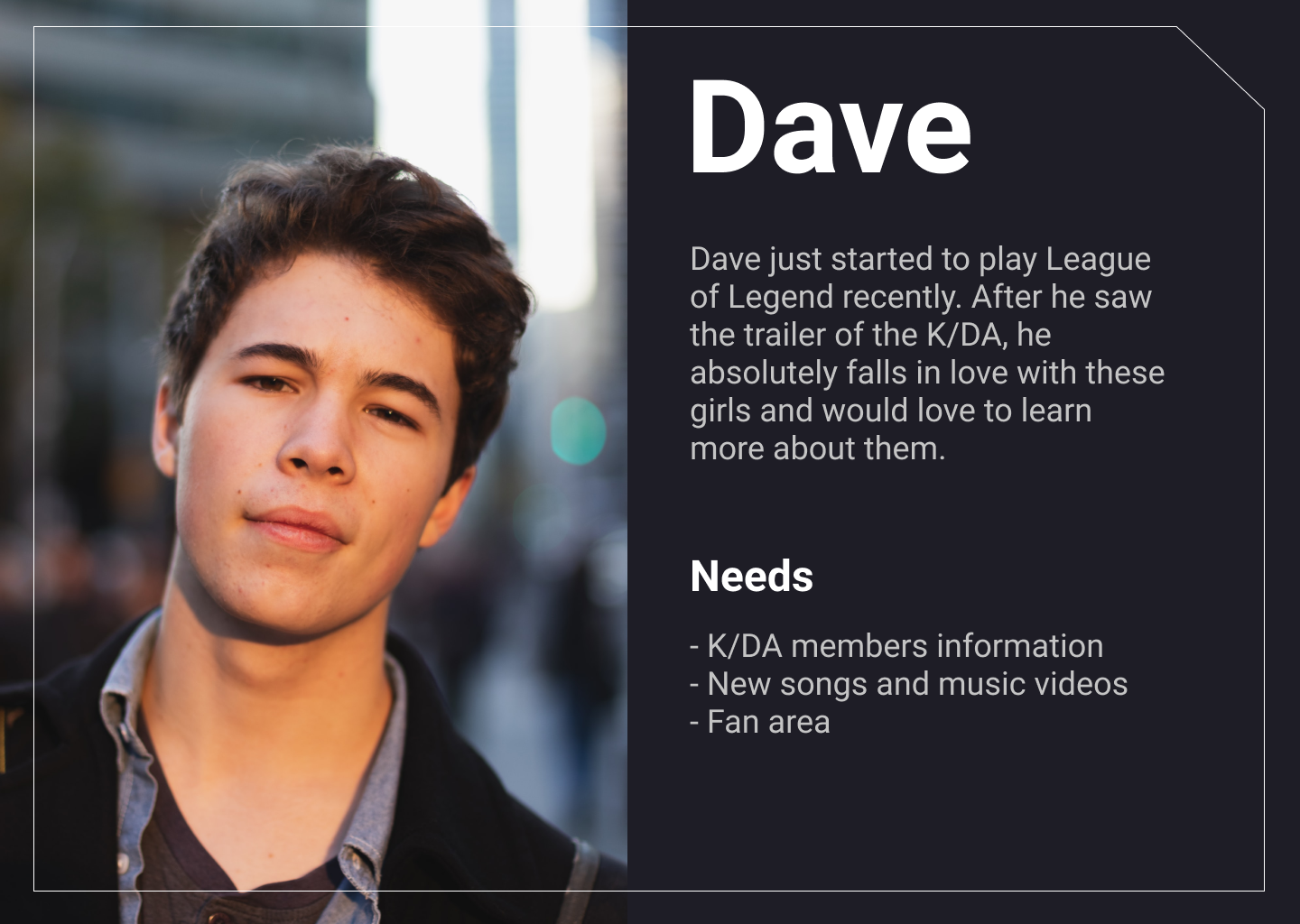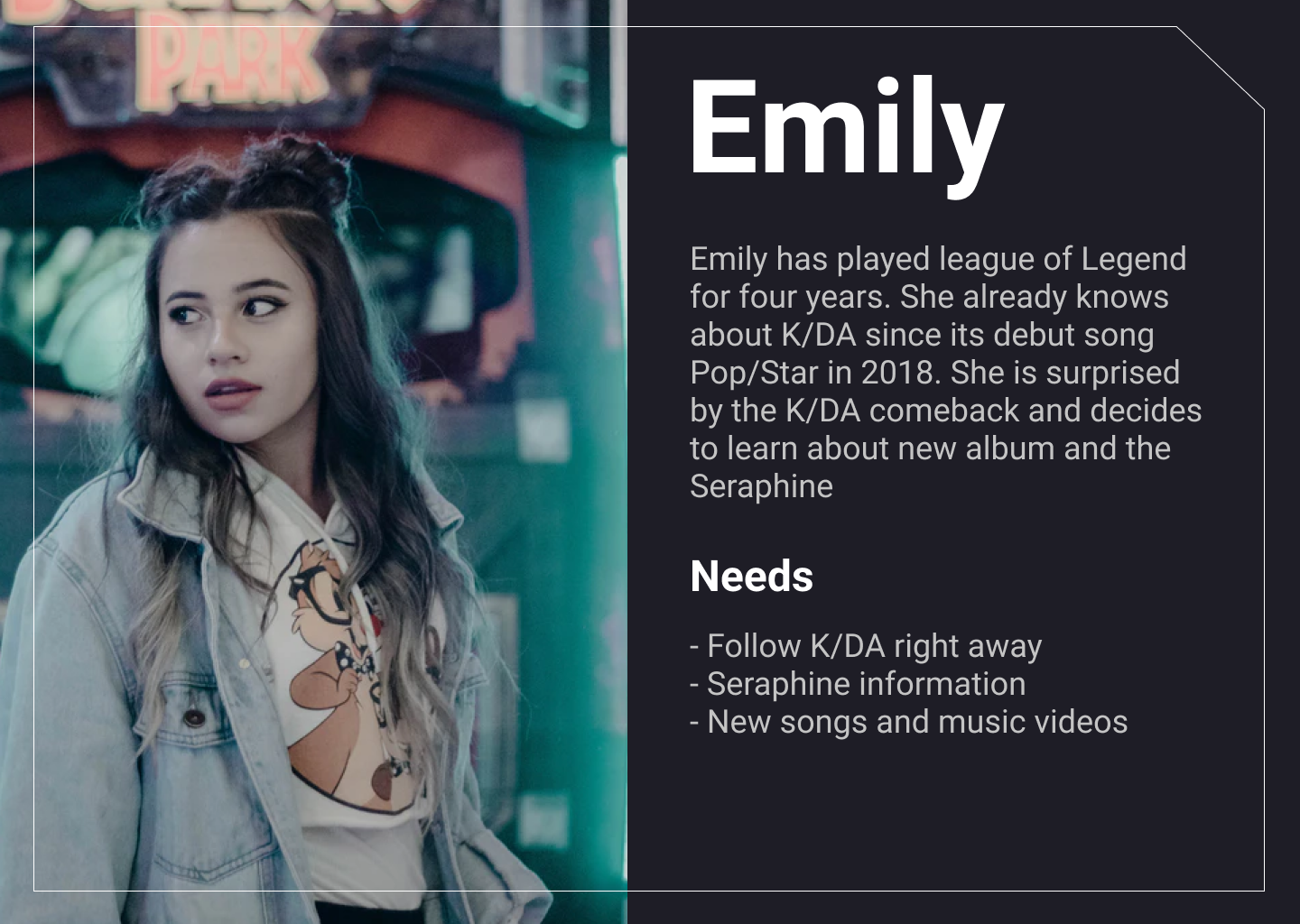 There are two types of audience. First type is people like Dave who just started playing League of Legends and doesn't know much about K/DA. They need a full introduction of the group, music and fan area. For those who already know about the K/DA since it debut in 2018, they may just want to follow the social media and listen to the new songs.
- Clear information of both KDA and Seraphine and their relationship.
- Easy access to KDA music, videos and accessories
- A place to follow K/DA
- Convert more audience to K/DA fans
- Have more people follow the K/DA social media
Current Problems
After knowing what users need and what the company wants, I look back at the current web design and targeted two major problems.
- The information on the website is not complete or organized.  There is no information on what's the new album called, what songs are included in this album and the K/DA comics is on another website without a direct link to it.
- The flow of the web experience does not make sense. Social media accounts are put at the very beginning of the page when users are not very familiar with the K/DA, making them less likely to follow. Even if they would love to follow, they have to scroll all the way to the beginning to follow.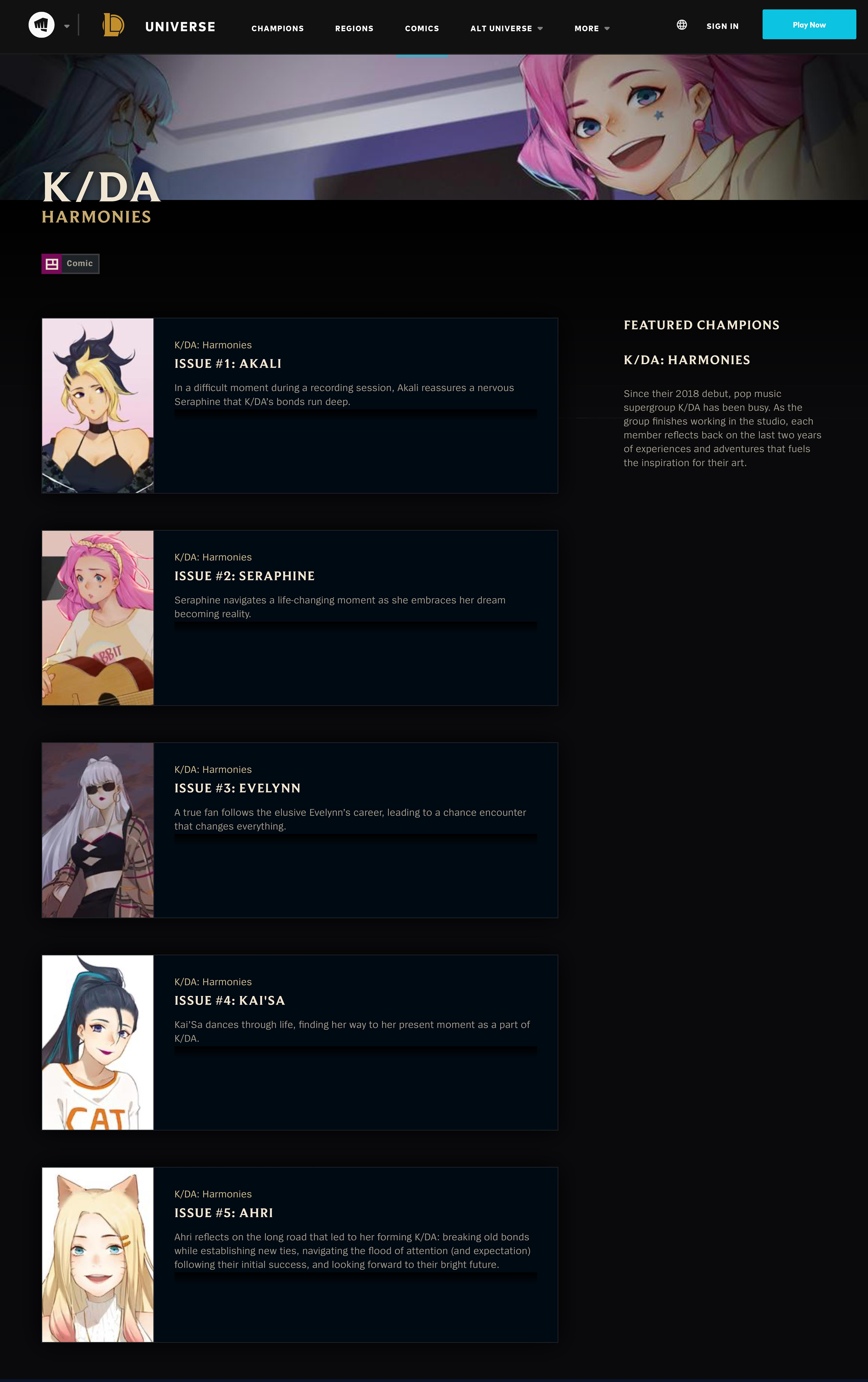 solution
For a better linear experience, I organized the content into three main groups: Introduction, Music and Fan club. The idea is to get users familiar with the members first, then K/DA music and videos and at last provides a fan area. And below is the Information Architecture for the website
Iteration
Then I conducted 4 usability testing on the mockup over Zoom. One issue with the current design is that, for those users who already know about KDA, they need to scroll down to the bottom in order to follow the social media account, which creates extra work for them.